My flight to Amsterdam this afternoon was cancelled, for although airspace over Amsterdam has been reopened, it is still closed for commercial flights over Bordeaux. Absolutely fantastic. Apparently I'm allowed a free rebooking, in which case I would have changed it to a flight tomorrow, except I'm not allowed to modify my booking until tomorrow itself. Hopefully there is a flight out on Thursday that I can take.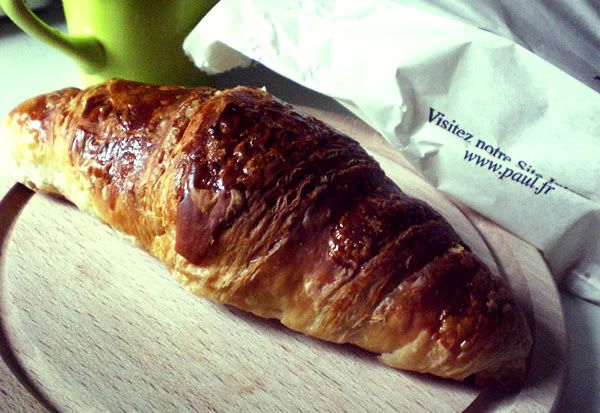 For now I have drained my sorrows in the greatest croissant I have ever tasted, which sadly comes from a French bakery chain (the horror) called
Paul
. I really ought to go to try more quaint, artisanal bakeries, but for now,
Paul
's croissants take the title because they are buttery, flakey, and crunchy yet soft in the way you always dream a croissant would be. Delicious, especially, when dunked in a mug of hot chocolate.